Although there are many design styles to choose from, here are a few popular styles to consider for your interior design project.
MODERN
Known for simplicity in look and feel, Modern interiors have sleek lines, simple color palettes (lots of white!), state-of-the-art materials (glass, steel), and strong geometric shapes. Clean and streamlined are common terms associated with this minimal look. Furnishings exemplify the look with linear forms and polished surfaces. Art and accessories are minimal and carefully selected as highlights in the space.
Examples: Downtown KC Loft, Award Winning Headquarters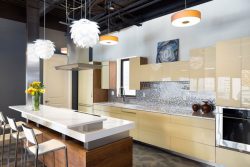 TRADITIONAL
Most Traditional interiors are rooted in European influences (Greek, Italian, French, and English.) Color palettes tend to be rich with carved woods, sumptuous textures, and lots of ornate details. Velvets, silk brocades, toile wallcoverings, and lots of accessories build a layered look that endures time and trends.
Examples: Leawood Traditional New Build, Woodland Shores Lake House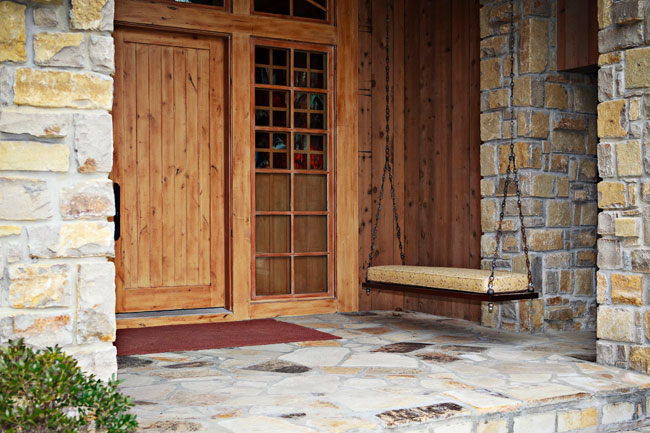 TRANSITIONAL
This style is a middle ground between Traditional and Modern. The style is a beautiful balance of elegance and cleaner lines in furnishings. Some pieces may have a deep-rooted sense of history, while others are more modern with cleaner lines and forms. Color palettes tend towards classic neutrals and wood tones that create a calm and relaxing space that is chic and stylish. The spaces are warm and inviting.
Examples: Transitional Lake View Home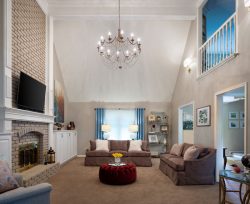 CONTEMPORARY
This 20th Century style is known for bold pops of color with a predominately neutral back drop. Like Modern, furniture is sleek with metal accents forming basic shapes and forms. Interiors tend to be bold and graphic. Statement art is a common theme in this commonly known "here and now" look.
Examples: Casual Contemporary, Sophisticated OP, KS Doctors Office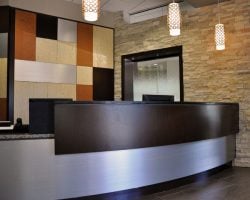 INDUSTRIAL
An ode to the Industrial Revolution, this urban loft/warehouse/historic downtown style loves unfinished raw materials – brick, steel, concrete, wood beams and columns. High ceilings are common with exposed ductwork and wiring. Renovated buildings are transformed into cozy, hip lofts, but the style is also emerging in all project types today, from retail to hospitality spaces.
Examples: Industrial Inspired Retail, KC Bier Co., The Cool Chiropractor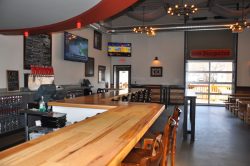 MID-CENTURY MODERN
The 1950's -1960's era was the pinnacle of this design style. Since the millennium, this throw-back style has seen a huge reemergence in today's interiors. There is a retro nostalgia to the furniture forms and fabric prints that is combines a sense of modern with organic, simple forms and patterns. Teal blue/olive green, cherry red/bold orange, rich browns, and brassy metallics are common in a midcentury palette.
FRENCH COUNTRY
The farmhouse look has emerged from this warm, earthy, worn style. Painted hewn wood, stone, brick, brass and copper are common themes in a French Country home. Interiors are cozy and comfortable with plush sofas and linens. Accessories can be ornate, but well used. Antiques and eclectic furnishings complete the look.
Examples: French Countryside Home, Exquisite Master Suite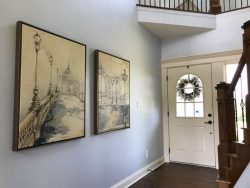 GLAM
Hollywood has developed its own style with over-the-top interior design that screams rich, luxurious, elite opulence on display. However, this style can be paired down for a very sophisticated look, highlighting crystal chandeliers, statement furniture pieces, and bold print wallcoverings. Velvets in bold hues and color combinations create memorable interiors that feel dramatic and often feminine.
Examples: Boldly Modern Dining Room, Modern Glam Bathroom, Daringly Glam Open Plan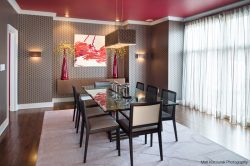 ECLECTIC
Anything goes with this style. It is about forming your own look that may combine any of the other design styles into a mix of antique, modern, and transitional furniture pieces. It's a mix that looks found over time while traveling, shopping flea-markets, and browsing chic boutiques. Often eclectic interiors are one-of-a-kind novelties that are difficult to duplicate. They breathe personality… the personality of their owner.
Examples: Merchants Pub & Plate Restaurant, Colorado Renovation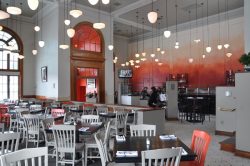 ARTS & CRAFTS / MISSION
Interestingly enough, this design style started as a protest to the lavish, overly cluttered interiors of the Victorian era at the turn of the 20th century. Arts & Crafts is an approach encompassing many styles – Craftsman (Bungalow), Cottage, Prairie Style, to name a few. This look is informal, yet cultured and eclectic. These simple and sophisticated interiors can include handmade décor, pottery, ceramics, silver/metals, and textiles. Many find comfort in the nature-inspired palettes featuring earth tones, stone, brick and wood elements.
Examples: Hodgdon Powder Company, Lakewood Pool Pavilion, Woodland Shores Lake House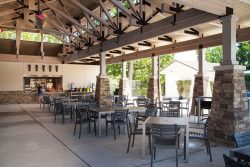 COSTAL
This beachy style has a strict color palette of soft blues, greens, whites, creams, and tans. The style is the epitome of the relaxed life lived at the beach or lake. It is non-fussy, comfortable and airy in feeling. Striped patterns, natural textures (rope, sand, linens), and themed accessories recall the water. It's all about being comfortable and relaxed.
ART DECO
Appearing in France ahead of WWI, this style epitomized glamour, luxury, opulence, and became a symbol for faith in social and technological progress. Art Deco is best described as many styles unified by a modern desire. Common traits include stylized forms, metallic textures, bold geometric patterns, and bright colors. Exotic styles, high-end materials, and exquisite craftsmanship come together to shape this daring design approach.
Example: New Century Airport